Unlock the cheapest energy rates with smart features from Octopus Energy
You can unlock massive energy savings
by adding smart features like Intelligent Octopus to your energy plan. Discounts are available for smart thermostats, electric vehicles (EVs), home batteries and solar panel owners.
Intelligent Octopus for thermostats
Works with ecobee, Sensi, Amazon, Honeywell and Google Nest
Get an even cheaper energy rate when you pair your smart thermostat with Intelligent Octopus. Our thoughtful smart thermostat optimization gives you savings off your bill every month, with the same reliable, comfortable heating and AC as ever.
Coming to more smart thermostat brands very soon. Request a brand here.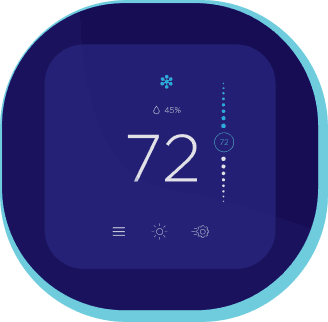 Intelligent Octopus for EV
Works with Audi, BMW, Ford, Jaguar, Porsche, Mini, Volkswagen, and Tesla
Charge your EV at a discounted energy rate when you enable smart charge scheduling through Intelligent Octopus. You're in control through our great app.
Let's get in touch to see if your EV is eligible!
Octo GridBoost
Works with Enphase
Get $480 a year to connect your battery to Octopus. We'll optimize your charge and discharge to help keep Texas' grid in balance, never letting your battery drop below 20%. You'll get $40 credit every month, as well as a dynamic buy-back rate for all your spare solar power.
Connecting to more types of batteries soon. Request a different battery here.
Solar buy-back
Our dynamic solar rate is the only one in Texas to follow real-time wholesale energy rates, so you can get paid market-beating prices to export power when the grid needs it most. There's no cap on how much we buy back or how much you can export. It's a win for all!
The Fan Club
Get up to 50% off your energy rate when the wind is generating more than 45% of the grid's supply. It's 100% renewable energy at the same great price as any other Octopus product but with a twist.
The Fan Club is only available to 1,000 customers, don't wait to enroll.
Google Nest is a trademark of Google LLC.
It looks like you're not visiting from the US.
Would you like to visit another region of Octopus Energy?