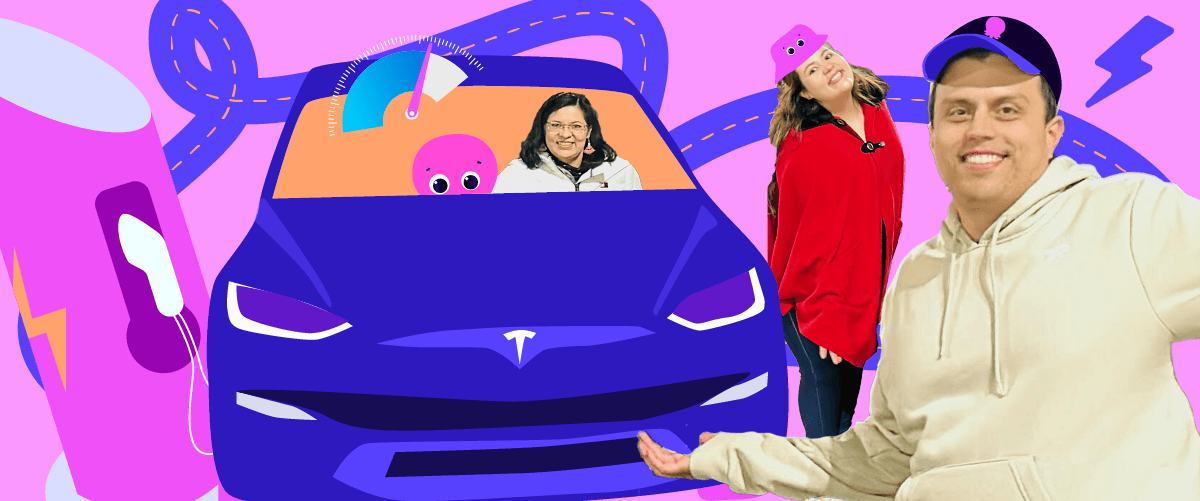 March 29th, 2023
How Josh charges his Tesla for free with Intelligent Octopus
Meet Josh: Pearland local, Tesla driver, Octopus Energy customer. Josh was one of the very first people to try Intelligent Octopus EV charging. We caught up to see how it's going.
What's Intelligent Octopus?
It's pretty simple. We schedule your EV charging overnight through the Octopus app. You plug in and forget about it. We give you a discounted energy rate that equals about $30 a month in savings– that's $360 a year off your energy bill.
"Octopus is a pioneer in Texas, probably in the USA as a whole, to give a rebate back to EV owners to incentivize off-peak charging."

"
Hi Josh, tell me how charging your Tesla works with Intelligent Octopus. 
Josh: My wife Clarissa or I get home from work, plug the car in around 7pm, and forget about it. Within around 15 minutes, the Octopus app has mapped out a charging plan for that night – you don't even have to review this, you can just count on it to happen. The car won't start charging until it's scheduled to (usually around 1am). We go to bed, then at 1am, the charge kicks on, right on schedule.
As we sleep, the car charges up 'til it reaches our chosen battery level by a certain time (for example, we might tell the app to fill the battery to 90% by 6am).
Is Intelligent Octopus saving you money?
Josh:
Intelligent Octopus basically gives us EV charging for free.

"
There's a huge money-saving ability. We get paid $30 a month for being part of IO, and that's on top of the already-competitive Octo 12 flat energy rate. On our old energy plan, it typically cost us between $30-50 a month to charge our EV, so the $30 Intelligent monthly credit often more or less covers that whole cost.
What's so different about Intelligent Octopus compared to how you charged your car before?
Josh: It doesn't feel like any big difference in what we have to do – we used to charge overnight anyway, by scheduling it through the Tesla app. This worked fine, but the onus was on us to set the schedule. That was the old world…
Now all we have to do is plug in the car. It's a hands off approach. You don't even have to think about it.

"
Other than that, before, there was no real financial incentive for our EV charging. Now, we get paid for it! 
What's the IO app experience like?
Josh: It's really well-made and polished. Once you add your vehicle into the app, charging is super seamless every night. 
Easy to use, seamless, reliable.

"
You get a lot of control: customisable options to set your charge level and the time you want your charge to complete by. You can hit a dropdown and see exactly when your car will charge overnight, which gives peace of mind.
It's also just insightful and informative for me to be able to see what energy my house has used over the past days, weeks, months etc.
What if there's a change to your routine, or you need the car unexpectedly?
Josh: Octopus has thought of that too - there's a 'Bump charge' feature so if you can't wait and need to charge now, you just hit 'Bump' and you'll start charging right away. Which I think you can do a number of times per month without losing your $30 payment.

Intelligent Octopus is designed to explore how smart tech like EVs can help to balance Texas' energy grid. How much does that matter to you?

Josh: It's important to me, though it's often overlooked by people. Extreme weather events from storms to heat waves put the grid at risk. Octopus is being innovative and helping find ways to mitigate major grid events. If the way to do that is by balancing demand by charging EVs overnight, and that charge is cheaper for drivers, it's the ultimate win-win.
It's the ultimate win-win scenario.

"
Want to try Intelligent Octopus?