July 7th, 2023
How to earn more from solar power
With Octopus' solar buy-back plan, the same solar power can earn you a lot more if you sell it at the right time of the day.
On June 20th, some customers earned as much as $200 from solar in just four hours when the market energy price suddenly spiked. How'd they do it? They worked out how to game the real-time price of energy. Read on to find out how.
What's so good about our solar buy-back price?
Your solar buyback rate is the

real-time market price

of energy. Your rate changes every 15 minutes, instead of a flat, fixed rate. 

There's no maximum rate. Sometimes,

the market price skyrockets 100s of times higher than normal – and

that's what we pay you.

We don't restrict the amount of solar you can sell. The sun's the limit!
You can earn more by exporting at the most valuable times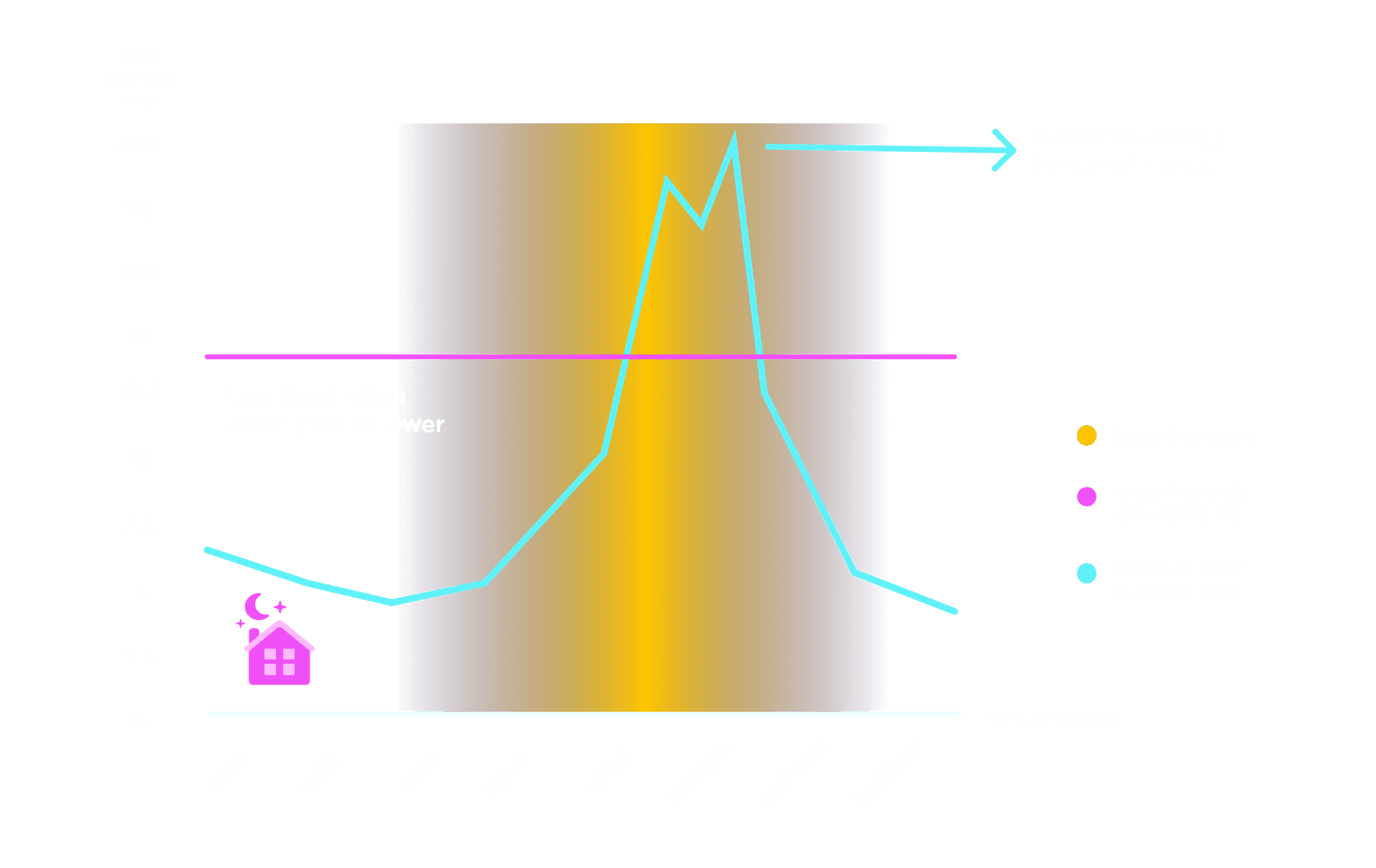 Use as little energy as you can when your buy-back price is higher than your home energy (import) rate. You'll use less solar to power your home, so you can sell back more solar for a higher price.
Use more energy when your solar buy-back price is lower than your home energy rate.  Try to shift as much of your energy use into times when buy-back won't earn you as much — so when the rate is lower, run the washer/dryer or dishwasher, cool the house down, charge up your electronics, cook dinner. Using more energy at the cheaper times means you can conserve later, when the buy-back price is high.
Just how high do our solar rates go?
Summer is when you can really make bank – our solar buy-back rates went as high as $5 per unit last year – around 100x higher than average flat solar rates.
Prices went above $1 over 100 times last Summer.
On an average Summer evening last year, customers were earning around 22c per kWh of solar.
What are the rates typically?
Most customers in Texas are on a flat solar rate – how does a wholesale rate like ours compare?
We looked at historical prices over the last year to work out an average day of Octopus solar buyback rates.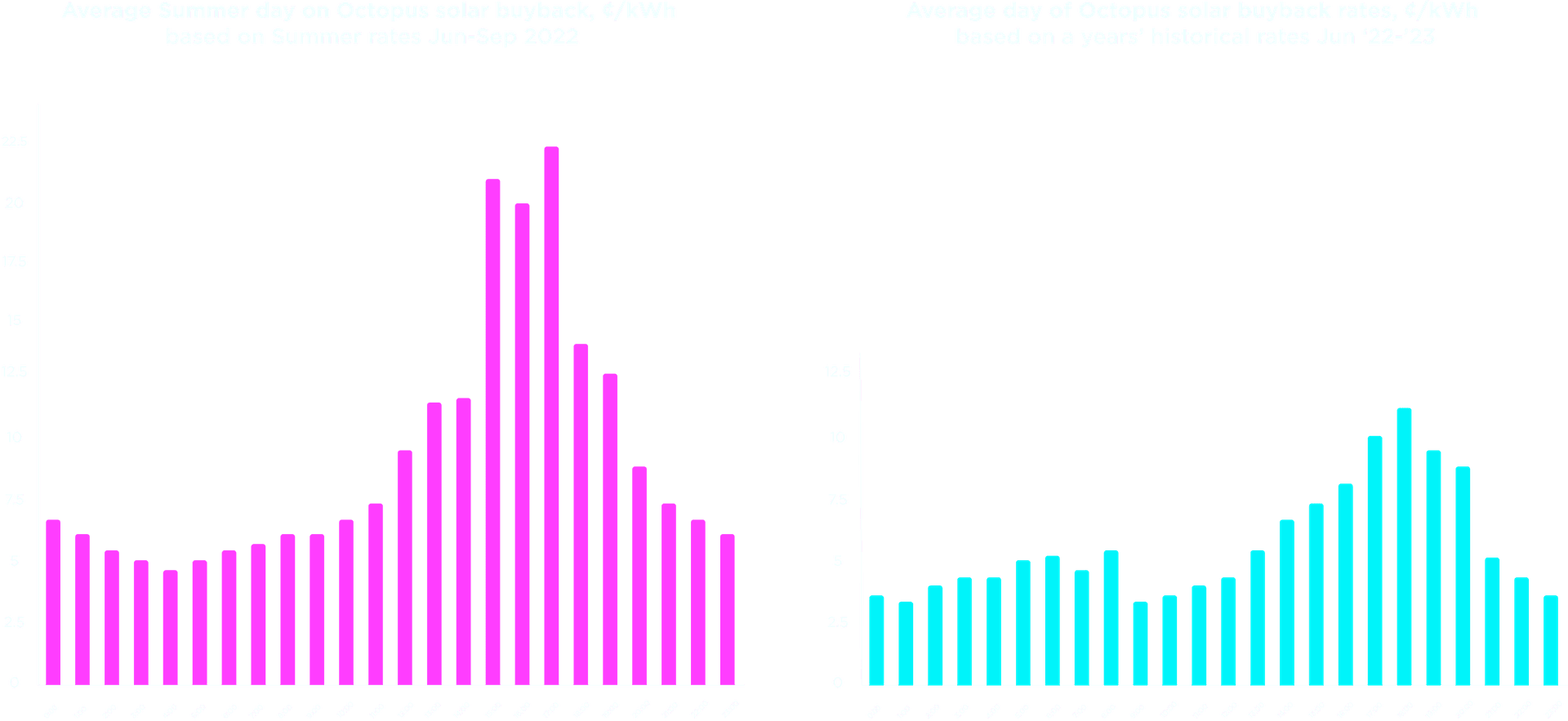 Texas Power Guide puts other solar buyback plans in the range of 3-14¢ / kWh. The ones at the higher end usually cap the amount of solar you can sell.
Octopus rates rise and fall with the market, so you can earn lots more at certain times when the grid needs help – sometimes much higher than the average flat price.
You can download a year's historic Octopus buyback rates for every zone of Texas here.
Get alerted when you can earn big from solar
Check the Octopus app to find out what your solar buyback rate is right now.

Follow @OctopusSolarTX on Twitter to get alerted when price spikes are coming up (and give

@OctopusEnergyUS

a follow while you're there)
Make your solar smarter
Use IFTTT

to automate your home based on the solar price, or set up alerts about future price spikes.

Use

our open API

to create your own automations.
What's so good about a real-time solar buy-back price?
The market price of energy rises and falls a lot. These ebbs and flows happen over the long term as the seasons change, and weather and other factors affect generation and energy needs, for example, prices are generally lower in Winter.
 But things also change a lot in the short-term throughout the day.
Any time the grid experiences an unexpectedly high demand (ie, people are using much more power than expected) the price can spike. Heat waves means Texans crank up the air con, leading to unusually high energy demand across Texas. That drives the wholesale price really high as the grid struggles to find enough energy to meet the extra demand – so they'll pay much higher rates for energy then.
Helping your fellow Texans during a heatwave
It's the perfect time for home solar generators to sell, because not only will you get a great price for your solar (potentially hundreds of times the normal rate) you'll be helping the grid stay balanced and helping your fellow Texans keep cool.