April 8th, 2021
Earth Month at Galleria Dallas, presented by Octopus Energy US in partnership with EarthX
In honor of the 51st anniversary of Earth Day on April 22nd, Octopus Energy US in partnership with EarthX presents a celebration of Earth Day 2021, at the Galleria Dallas. The exhibition features information about how individual actions can make a huge difference against the real and compounding effects of climate change. 
The Power of You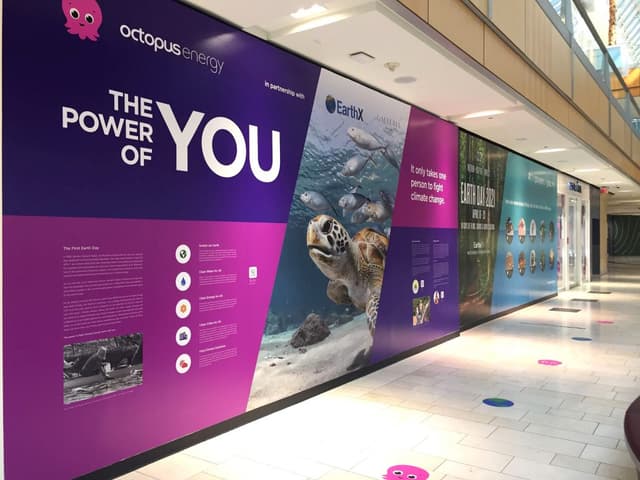 The exhibit features a large wall installation showcasing five different environmental focus areas — Sustain our Earth, Clean Water for All, Clean Energy for All, Clean Cities for All, and Find Climate Solutions. The installation also features actions consumers can take to reduce their carbon footprint. Each focus area contains QR codes leading to a companion website with supporting materials provided by Octopus Energy, EarthX, and additional resources. After shifting in 2020 from an expo to virtual programming, EarthX will celebrate Earth Day April 16th through 25th, 2021, with environmental solutions-based conversations and original programming on EarthX TV. The EarthX Film Festival will screen films both online and outdoors bringing the viewing experience back to the big screen.
Local Artist Spotlight
In addition to the educational activation at Galleria Dallas, Dallas-based artist Jessica Bell debuts an inspirational art installation spanning a 16-foot storefront window at the shopping center, curated by Gossypion Investments, and commissioned by Octopus Energy US.
https://vimeo.com/533771386
The piece focuses on the everyday environmentalism that viewers can participate in by reducing, reusing and recycling the materials in their lives. As a contemporary sculptor and ceramic artist, waste is a natural part of Bell's creative process. Over the years, Bell has saved imperfect pieces, such as cracked vase pieces or stained fabric, instead of throwing them away. For this piece, Bell uses these forgotten and discarded artworks to make a colorful, eye-catching installation that inspires viewers to consider what they can save from the landfill by finding a creative new use. 
Jessica Bell is contemporary sculptor and socially engaged artist based in Dallas, Texas. Her work focuses on identity, race, environmentalism, and education. Additionally, Bell is a Professor of Sculpture at the acclaimed Booker T. Washington School of the Performing and Visual Arts in Dallas.
Giving Back to the Community 
As part of the month long installation, Octopus Energy chose to highlight Green Careers Dallas, a non-profit organization that provides solar installation training to residents of South Dallas, in some of the poorest zip codes in the city. Their goal is to empower and energize the people of South Dallas by creating innovative economic opportunities in underserved neighborhoods. The training Green Careers Dallas provides connects individuals to valuable and relevant career opportunities within the growing green economy. Their current project involves a solar installation at a community garden at Stella and Denley in the underserved 75216 area. Octopus Energy will be donating $50 to Green Careers Dallas for every new customer sign-up through the activation and guests will also be able to donate directly to the organization through the accompanying microsite.