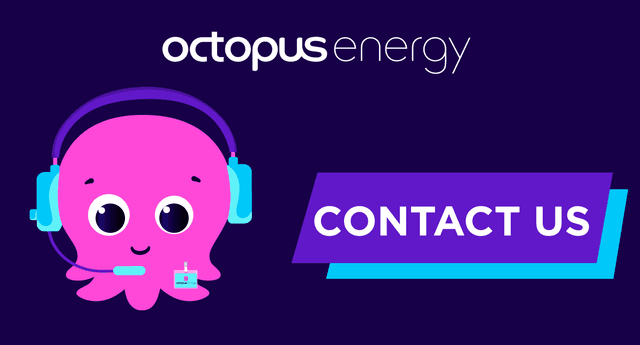 ⚡️ ¿Necesitas ayuda? Envíanos un correo electrónico para asistencia rápida
El servicio al cliente de excelencia es nuestra esencia. Respondemos correos electrónicos dentro de 24 horas, pero lo típico es responder el mismo día.
👉 Envíanos un correo electrónico a heretohelp@octopusenergy.com
Horas de Operación (Horario Central)
Lunes: 9 AM to 5 PM
Martes: 9 AM to 5 PM
Miércoles: 9 AM to 5 PM
Jueves: 9 AM to 4 PM
Viernes: 9 AM to 5 PM
Sábado y Domingo: heretohelp@octopusenergy.com
Para asuntos urgentes, llámanos al 833-628-688.
To get the quickest solution, why not try to find the answer online first?
Browse answers to common questions
Solve your problem in a few clicks
You can make payments, change payment details, track your energy use, view your bills and more online.
How to reach our team
Email us
The best way to reach us. Get help from a friendly expert within 24 hours (usually within the same day).
Call us
If you prefer to speak on the phone, give us a ring – you won't wait more than a few minutes to speak to our Houston-based team.
Para reportar un apagon:
AEP Texas – Llama al 877-373-4858. Puedes seguir las últimas noticias de AEP y obtener actualizaciones por Twitter.
CenterPoint Energy – Llama al 800-332-7143. Ver el mapa de apagones de CenterPoint aquí.
Oncor – Llama al 888-313-4747. Ver el mapa de apagones de Oncor's aquí. Además puedes suscribirte a las alertas y actualizaciones de estado que vienen directamente de Oncor. 
Texas-New Mexico Power – Llama al 888-866-7456. Ver el mapa de apagones de Texas-New Mexico Power aquí. Puedes ver las últimas actualizaciones de estado en Facebook y Twitter.
It looks like you're not visiting from the US.
Would you like to visit another region of Octopus Energy?